Port's £300m Liverpool2 plan set to go ahead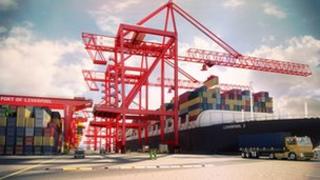 A £300m plan to build a new container terminal at the Port of Liverpool is set to go ahead.
Developers Peel Ports hope the Liverpool2 deep-water terminal will bring the largest container ships in the world to the River Mersey.
The Marine Management Organisation (MMO) is to confirm next month whether dredging work can begin on the site.
But the scheme looks set to be given the green light after a consultation period ended with no objections.
Work is expected to start on the new terminal early in 2013, but the port needs to secure three licences from the MMO before this can happen.
Specialist training
Liverpool2 will be for ships wider than the original Panama Canal, and will be capable of handling ships carrying 13,500 containers, compared to the current limit in Liverpool of 3,500.
It is hoped the project will create 5,000 jobs and provide a serious boost to the local jobs market.
Peel has already announced partnerships with two local colleges, Liverpool Community College and Mersey Maritime Group, to offer local people the specialist training and qualifications they will need to work at the terminal.
Douglas Coleman, Programme Director for Liverpool2, said: "The pre-construction activities associated with the Liverpool2 project are progressing to plan.
"The Marine Management Organisation are processing our Marine Licence Application and we remain confident of a positive outcome in due course.
"Construction works on Liverpool2 are anticipated to commence in the New Year."
A spokesperson for the Marine Management Organisation said: "The public consultation has now finished, and no formal objections were received. We expect to make a decision in December."