Wavertree shooting: CCTV of 'targeted attack' released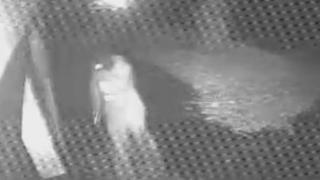 Police investigating a suspected targeted attack in Liverpool where a man was shot in the head and chest have released CCTV footage of the scene.
The victim has not been named, but is thought to be Jason Osu, 31. He remains in a critical condition in hospital.
Mr Osu was pulling into his driveway on the corner of Woolton Road and Beauclair Drive, Wavertree, on Monday evening when he was attacked.
Police said he was hit five times by two masked men shooting at the car.
He suffered a head injury, number of wounds to his chest and abdomen and an injury to his arm.
The offenders then left the scene of the shooting in a dark coloured hatchback car.
A stolen Citroen C4 with false numberplates was later found on fire in Waldgrave Road, Wavertree.
Officers are trying to establish if the car is connected to the incident.
Police presence
Det Ch Supt Paul Richardson said officers believe it to be a targeted incident in a "low crime, suburban area of Liverpool".
"We do know from CCTV that a vehicle was probably parked up for about 30 to 40 minutes prior to the two occupants running out and firing the guns.
"I know that we have a gun-crime problem on Merseyside, but this is another level of gun-crime, it is a level whereby there has been a very clear attempt to kill this man."
He added there was currently a highly visible police presence in the area, with officers appealing for anyone with information to come forward.
The offenders were wearing balaclavas and dark coloured anoraks.