Cheshire Police and Crime Commissioner John Dwyer sworn in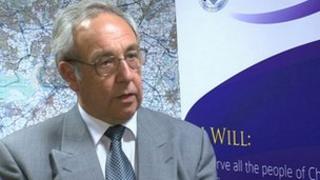 A former assistant chief constable has been sworn in as Cheshire's Police and Crime Commissioner.
John Dwyer, 62, was presented to the force during a meeting on Wednesday evening at Cheshire Constabulary headquarters in Winsford.
The Conservative candidate beat Labour's John Stockton after second preference votes were counted when neither managed to get 50% of the vote.
Other PCC's across the region officially take up their roles later.
Mr Dwyer will be on a salary of £75,000 and responsible for setting priorities for Cheshire Police, overseeing its budget and hiring the chief constable.
'Under pressure'
He won the second preference vote, with 56.5% of votes to Mr Stockton's 43.5%.
Mr Dwyer, who retired from the police force 11 years ago, said the beginning of his term was going to be a "hectic time".
"We are starting to look at the budget and I'm really under pressure with that, as indeed are PCC's around the country," he said.
"We have got about ten weeks or so to prepare the budget for next year, so that's a really tight time scale to operate in."
He added he was also visiting various departments of the force to meet staff.
The overall turnout for the Cheshire vote, which took place on 15 November, was 13.7%.