Social workers visit food banks for Wirral families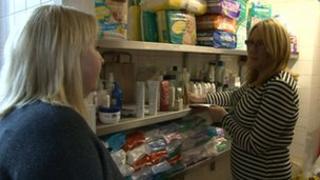 Social workers have been visiting Wirral food banks to pick up provisions for local families who they say are struggling to make ends meet.
Family support worker Jill Barlow said the food banks were a vital lifeline to families in crisis, be it from changes to benefits, redundancy or low income.
The charity-run centres have seen a record rise in people using their service in the past six months.
But some fear it is filling in the gaps created by the benefit system.
Clint Agard chief executive officer of black and racial minorities outreach service Wirral Change said: "Food bank is a fantastic service, but I wouldn't like to think that it is plugging the gaps in the benefit system.
"However, it would seem that it is a part, or becoming a part, of the benefit system."
Ms Barlow, who works at Rock Ferry Children's Centre, said changes to people's benefits were leading to families struggling to pay for food.
"We have families who come to us as the first point of call if they are struggling with benefit changes, or circumstances that they are struggling with at the moment," she said.
"It could be that I am working with a family that needs a voucher, or it could be a family that comes into one of our groups in the centre and says they are struggling.
"We also come and pick the vouchers and parcels up and distribute them as a lot of our families aren't mobile enough to come and get them."
She said families who benefit were grateful for the help and the support of the food bank.
She said: "There are family hardships, there are break-ups of families, changes in benefits, we also work closely as Rock Ferry Children's Centre with the Neonatal Unit at Arrowe Park hospital.
"We have families who have had their babies early, they were claiming Jobseekers' allowance and it has been changed to income support, so they might have a three or four week break where they don't get their benefits.
"This is vital for us that we can get food parcels for those families, so that when they are already at crisis with a premature baby, they don't need to worry about where they will get food from, especially as they have to express milk for those tiny babies."
The Trussell Trust said its network of food banks across Lancashire, Merseyside and Greater Manchester had fed more than 13,500 people since April. This compares with 10 people in same period last year.
In addition to 20 Trussell Trust food banks in the region, FareShare North West has more than 70 community food groups providing hundreds of people each day with meals, snacks or food parcels.
FareShare works with food manufacturers to stop food being wasted. Every year 200 tonnes of surplus food is distributed to people in food poverty.