Fiancee of killed soldier Pte Daniel Wade wins paternity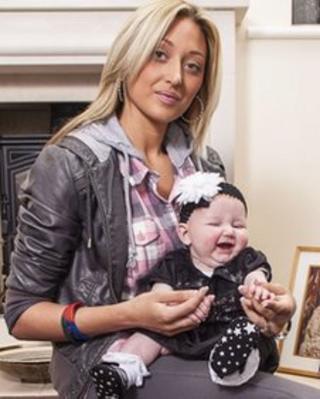 A woman from Warrington has won her battle to prove her fiance fathered their daughter before he was killed in Afghanistan.
Because they were not married, Emma Hickman, 19, had struggled to have Pte Daniel Wade's name on the birth certificate of their daughter Lexie-Mai.
Pte Wade, 20, died in a bomb blast on 6 March.
The Ministry of Defence released his DNA so she could prove paternity.
It means she can put his name on Lexie-Mai's birth certificate and she is now eligible for compensation.
Prime Minister David Cameron last month pledged to tackle the "dreadful situation" and said it "could not be allowed to continue".
'So proud'
Miss Hickman said: "It has never ever been about the money; it is about Lexie-Mai's right to know who her father is.
"Dan was so looking forward to being a daddy. He used to carry her scan picture with him under his body armour when he went out on patrol.
"He helped me choose her name and was so proud he was going to be a father."
Miss Hickman's solicitor Jennifer Roulston said: "It is appalling that Emma's trauma at losing her fiance just before the birth of her daughter should be compounded by this legal wrangle to establish her fiance's paternity."
Miss Hickman's MP David Mowat, who represents Warrington South, had backed her legal battle.
He believes the MoD should always hold DNA of troops sent to war zones to prevent a repeat situation.
Speaking at defence questions in the Commons on Monday, the Warrington South MP called for ministers to consider "asking the Army to routinely hold DNA samples for those on active duty, in the same way they do in France and America".
Pte Wade, from the 3rd Battalion the Yorkshire Regiment, was based at Battlesbury Barracks in Warminster, Wiltshire.