New date set for Moors Murderer Ian Brady's tribunal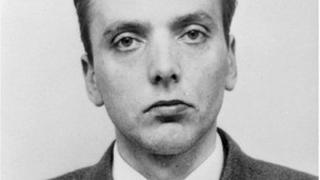 Moors Murderer Ian Brady's rescheduled mental health tribunal will take place in June, the Judicial Office has said.
A hearing in July at Ashworth Hospital, Merseyside, was adjourned because Brady was too ill to attend. It has now been re-listed for 17 June.
Brady, 74, was jailed in 1966. He is on hunger strike and wants to be allowed to die, but is being force fed because he is considered to be mentally ill.
He and Myra Hindley were involved in five child murders between 1963-65.
Judge Robert Atherton has ruled that the tribunal, which will hear the case at Ashworth Hospital, will be relayed to the press and public at the Civil Justice Centre Manchester, as had been planned in July.
Hunger strike
The 6 July tribunal was adjourned because Judge Atherton decided Brady was not fit to attend.
Glasgow-born Brady has been on successive hunger strikes since 1999 in an attempt to kill himself.
He has been tube fed since refusing food 12 years ago and has been a patient at Ashworth since 1985.
Brady is sectioned under the Mental Health Act, so he is not allowed to take his own life.
His tribunal will address an application to be transferred to a Scottish prison and to be allowed to die. There is no precedent in Scotland for force feeding a prisoner on hunger strike.
Brady and his girlfriend Hindley lured children and teenagers to their deaths, torturing them before burying their bodies on Saddleworth Moor, Greater Manchester in the 1960s.