Sefton junior footballers boycott matches over fees plan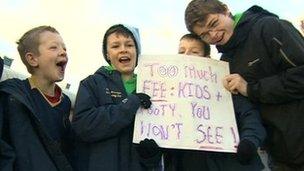 Hundreds of junior footballers have boycotted matches on Merseyside in protest against a plan to increase council pitch fees.
Sefton Council has proposed raising annual fees for under-11s from £180 per season to around £750 per season.
Teams gathered at Buckley Hill playing fields in Netherton to demonstrate.
Alice Sumner, of Hesketh Colts, said the rise was "extortionate". The council said no decision would be made on the plans until January.
The Labour-controlled council announced it would be reviewing the fees clubs pay for the use of its pitches in February, as part of an effort to make budget cuts of £20m for the financial year 2012/13.
However, it delayed the implementation of the proposals in March after local clubs voiced concerns over the rises, which could also affect rugby and cricket pitches and bowling greens.
Along with the rise in fees for under-11s, the council has proposed to raise fees for players 12 and up from £700 to around £1,700 a year.
A council spokesman said pitches had been "heavily subsidised" in the past.
He added that the new cost would depend on how many teams use the pitches, but should cost a junior footballer "only £2 a week".
Kenny Saunders, of Woolton FC, organised the boycott and said any additional cost would be difficult for some families to afford.
"People can't afford food, how are they going to afford money to play football?" he said.
The council consultation on the plans runs throughout December and the spokesman said a decision on them was due to be made in January.
Related Internet Links
The BBC is not responsible for the content of external sites.