Domestic abuse victim backs Merseyside Police campaign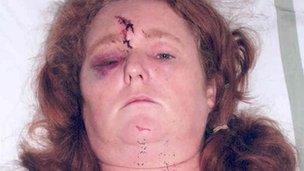 A woman who was almost killed by her former partner is encouraging victims of domestic abuse on Merseyside to seek help before they suffer serious harm.
Julie Graham, 43, from Sefton, suffered a fractured skull in a hammer and knife attack by Gary Anderson in September 2008, months after they had split up.
She only survived as she managed to crawl to the phone and dial 999.
Ms Graham is backing a Merseyside Police campaign to raise awareness of abuse in the run-up to Christmas.
Police said there tended to be more domestic abuse at this time of year.
Anderson, who is originally from Cleveland, was arrested two days after the attack on Ms Graham.
He initially denied charges of attempted murder, claiming self-defence, until overwhelming medical evidence about Ms Graham's injuries caused him to change his plea to guilty.
He was sentenced to an indeterminate sentence with a minimum of nine years.
Ms Graham said: "I suffered months of terrible physical and emotional abuse which got worse each time but I told myself 'You can cope', or 'This is my life now, just deal with it'.
"It left me a shell of a person - I barely recognised myself as the strong, confident person I once was. He eroded my self-esteem to the point that I would always excuse him or accept his apologies."
After spending a week in hospital with a fractured skull, the mother of two moved away from the area where it happened and rebuilt her life.
The police campaign, Draw A Line, is running in every part of Merseyside and is being supported by local authorities, charities and support groups.
Related Internet Links
The BBC is not responsible for the content of external sites.