Paula Gilfoyle's family infuriated by killer's campaign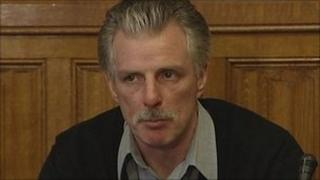 The family of a Merseyside woman whose husband was convicted of her murder have said they are "infuriated" by his latest attempt to clear his name.
Eddie Gilfoyle, 50, was found guilty of killing pregnant wife Paula after she was found hanged in the garage of their home in Upton, Wirral, in 1992.
A booklet listing alleged police errors was launched at the House of Lords by Mr Gilfoyle's supporters last week.
But Mrs Gilfoyle's family said they would like to take legal action.
The booklet repeats allegations that Peter Glover, Paula's brother-in-law, was having an affair with her and could have been the father of her baby, even though it has been proven that Mr Gilfoyle was the father.
Mr Glover said: "I was gobsmacked, totally infuriated. I was that angry I phoned the police about it."
His wife, who is Paula's sister Margaret, said if they could afford to take legal action over the booklet they would.
At Mr Gilfoyle's trial the jury was told he had made his wife's death look like a suicide after forcing her to write a note.
He served 18 years in jail before he was released on parole in December 2010. He lost two appeals, in 1995 and 2000.
The campaign to clear his name is backed by Lord Hunt of Wirral, who hosted the booklet's launch event.
His sister Susan Caddick said it set out the reasons the conviction was unsafe, which included alleged police errors and non-disclosure of vital evidence.