Liverpool baby Charlotte McVey born at 12:12 on 12/12/12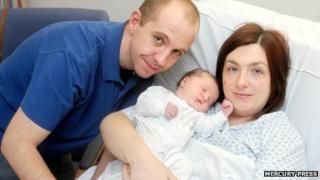 A Liverpool woman has given birth to a baby girl at 12:12 GMT at the point when the time, date, month and year were all the same number.
The timing means Charlotte McVey's full date and time of birth will be recorded as 12.12 GMT on 12/12/12.
Charlotte was born by Caesarean section at Whiston Hospital in Prescot and weighed 9lb 6oz (4.25kg).
Her mother Emma Gerrard, of Walton, said the coincidence meant her daughter was "a superstar already".
Her father, Jay McVey, said holding Charlotte for the first time had felt "like lifting the World Cup".
'Still in shock'
Mr McVey added that he had been clock-watching when Ms Gerrard went into theatre for the operation.
Ms Gerrard said she had not been "too bothered at the time, because I was more concerned about what was going on elsewhere".
"When we were waiting to go in, we were joking about Charlotte being born at 12:12 but never thought it would happen in a million years," she said.
"I'm still in shock, this has all happened so quickly."
She added that the couple "can't wait to tell Charlotte all about this day".