Wirral Council cuts: Protest held outside town hall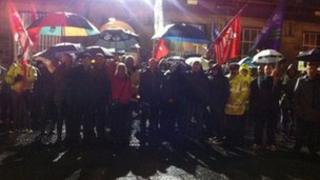 About 150 people protested outside a Wirral council meeting over plans to cut the budget by £39m next year.
Most were council employees who could face redundancy if the cuts go ahead.
Two petitions - each with about 8,000 signatures - were handed in to the council at the start of the meeting at Wallasey Town Hall on Monday night.
The authority is proposing cuts to children's services, reduced leisure services and cutting back office costs as ways of making savings.
The plans are out to consultation until 31 January.
'Cutting back'
One of the petitions against the cuts to jobs and services was handed to the council by Ross Quinn of Wirral United Against Cuts.
He said: "Respite centres and people with disabled children who get transport to and from respite centres, all of these things are under attack.
"You are talking to people who haven't really got any spare money as it is and they are already cutting back on loads of things.
"They are having to try and find all this extra money that's just not there."
The second was put together by Phil Simpson over the plans to close Birkenhead council-run kennels.
Wirral Council leader Phil Davies said the proposed savings were due to central government funding cuts.
He said: "Labour leaders - not just myself but elsewhere in Merseyside and in the north of England - have got this horrendous task of trying to manage our budget in the wake of these huge cuts.
"In Wirral's case, we are having to cut somewhere in the region of one third of our total budget in the next three years, some £109m.
"It is not as a result of our choice. "
Chief executive of the council Graham Burgess has said residents do have a say in where the cuts will be made, as their proposals exceed the cuts needed to be made by 25%.
They include plans to start charging schools for the provision of crossing patrols, introducing an opt-in charge for the removal of garden waste and the end of maintenance at 16 of Wirral's beaches.
They also include plans to end the sponsorship deal with Tranmere Rovers, which has been in place since the 1989/90 season, to save the council £135,000 a year.