'Bleak' outlook for Aintree carbon monoxide charity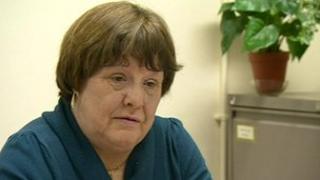 The founder of one of the UK's leading carbon monoxide (CO) charities says if it is forced to close, there will "no longer be support for poisoned victims".
Lynn Griffiths, 54, has campaigned to raise awareness about the dangers of CO poisoning since the death of her husband due to lung cancer in 1999.
Lynn said she believed CO had contributed to her husband's worsening condition.
She set up CO-Awareness, based at Aintree Fire Station, with the charity now facing closure after recent cuts to its funding.
She said: "Prevention is far cheaper than a cure, because in most cases there isn't a cure, it's a lifetime of misery and suffering.
"To begin with, I didn't know the dangers CO could cause."
CO is a colourless, odourless and tasteless poisonous gas which is produced when fuel does not burn properly.
Mrs Griffiths started the charity as her family "were poisoned for nearly 11 years by a fire with a blocked flue".
She said ITV was due to air a Coronation Street storyline on the dangers of CO on New Year's Eve.
On the same date, the charity, which costs £25,000 a year to run, is to make a decision about its future.
"It's looking bleak at the minute," Mrs Griffiths said.
Phone app
The most common cause of leaks is when an appliance, such as a boiler or cooker, is installed incorrectly or poorly maintained.
CO can also build up when flues, chimneys or vents are blocked.
She said that her children had suffered "behavioural problems due to low level, long-term exposure" to CO.
Mrs Griffiths added it had affected her short-term memory as well.
"I can't even read a book now, as by the time I read all the way to the bottom of the page, I can't remember what I have read."
The charity set up CO awareness week, has designed posters used within the NHS and has recently designed a phone app.
Volunteers also provide support for people who are worried about CO, or have themselves been poisoned.
In October, CO alarms became a legal requirement in all new homes in Northern Ireland.
As of yet, the alarms are not compulsory in the rest of the UK.
Mrs Griffiths said: "The first year we went around Northern Ireland as a charity, they said they didn't have a CO problem.
"Now they are doing something about it - I just wish we would follow them, but we aren't."
"My tips are to make sure your appliances are serviced every year and your chimney should be swept twice or three times a year.
"Buy and install a CO alarm, or make sure your current alarm is still in date and the sensor still works."
Mrs Griffiths said sensors cost between £15 and £30.
CO awareness is run by five trustees, who are now facing an anxious wait.
"We were funded quite well from 2006 to 2009. Since then the money has been drying up and we don't seem to fit anyone's criteria.
"My dream is to have a clinic for victims to be treated, as poisoning affects your brain, your lungs, your heart, your kidneys, all your major organs."