Walton Neurological Centre opens new ward and theatre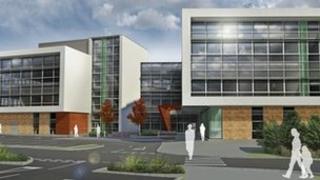 A Liverpool hospital dedicated to caring for people with neurological conditions has opened a new 29-bed ward and operating theatre.
Specialist staff at the Walton Neurological Centre in Fazakerley diagnose and treat injuries and illnesses affecting the brain, spine and peripheral nerves and muscles.
The improvements are part of a £40m investment in the hospital.
A larger neuro-rehablitiation unit and a fourth MR scanner are also planned.
Construction on a new three-storey building is expected to start next year and will provide further services to treat brain and spine conditions.
Consultant neurosurgeon Andrew Brodbelt said investing in the regional centre "allows you to treat people better".
"The new operating theatre is a cleaner air operating theatre that allows us to put in implants and stimulators with a lower infection rate," he said.
The Walton Centre NHS Foundation Trust said the centre's specialist services had grown continuously since it was established in the grounds of Aintree Hospital 20 years ago.
The trust said it was the only specialist neurosciences NHS Trust in the UK.