Warrington Jessops staff make window bid for new jobs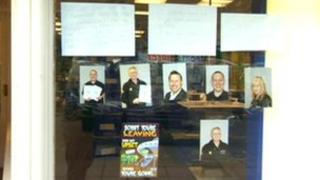 Staff at a Jessops store in Cheshire put their photographs in the shop window in an attempt to find new jobs.
The high street camera retailer went into administration last week and closed all 187 of its stores in the UK.
Workers at the Warrington branch put up pictures of themselves with a note which read: "Five unemployed and loyal staff seeking work. Can you help?"
Redundant worker Lanza Martineta said the news he was losing his job came as a "bolt out of the blue".
The redundant staff member, who also works as a photographer, said he was alerted by a journalist who called the store asking for a comment.
He said: "I got a phone call, I was working the usual shift same way as I have for the last four years and they stated they are going into administration and from there on it all went downhill."
The window display has now been taken down after a request from Jessops.
The retailer appointed administrator PricewaterhouseCoopers (PwC) last Wednesday.
It came after talks between Jessops and its lender and suppliers broke down after a poor Christmas.
The chain was founded in Leicester in 1935 by Frank Jessop, but in recent years it had been hit by increasing competition from supermarkets and internet retailers.
Its closure will mean the loss of 1,370 jobs.