Wheelchair fencer loses £30,000 of equipment in theft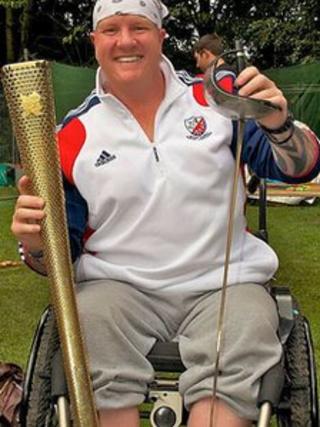 A Great Britain wheelchair fencer has said the theft of £30,000 worth of equipment could end his career.
Adrian Derbyshire, a London 2012 Olympic torchbearer, lost six swords and other items when his garage was broken into on Saturday in Warrington.
Mr Derbyshire, 38, said his "entire livelihood" had been taken, making it impossible to "compete or train".
He said he lost swords, spare blades, Team GB-branded kit, coaching equipment and an electric scoreboard.
A wheelchair worth £6,000 was damaged in the morning raid. A number of items have been recovered, but most are still missing.
He is currently in discussion with his home insurance providers to see if he is fully covered for the losses.
'Elite materials'
Mr Derbyshire said: "This could be the end of my career.
"To compete for Great Britain I have to have elite materials and a lot of these were bespoke items.
"I was supposed to compete against France next week in a big competition in London, but I can't now."
He added: "The equipment was so specialised - the blades were from Hungary - it could take me years to get it back but I could never afford it, I would have to go into debt to compete."
The items were taken from a secure brick garage, but the base of a door was bent upwards to gain access.
Mr Derbyshire suffered a brain haemorrhage which caused meningitis in 2008.
Since then he has won national wheelchair fencing competitions, and was expected to compete at the London 2012 Paralympics before injury ruled him out.
He said he may now drop world-ranking points and could lose his Great Britain spot.
Cheshire Police said two men were due before magistrates this week, charged with burglary.