GB wheelchair fencer: Police bag discovery "amazing news"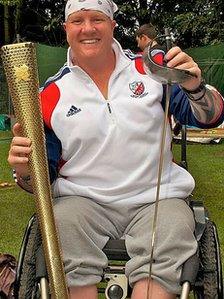 A Great Britain wheelchair fencer who lost £30,000 worth of equipment in a burglary said it was "amazing news" some of the items had been found.
Adrian Derbyshire, a London 2012 Olympic torchbearer, lost six swords and other equipment when his garage in Warrington was broken into on Saturday.
Cheshire Police said some of the items were found in a bag in Lilford Avenue at 20:00 GMT on Tuesday.
The 38-year-old thanked the media and members of the public for their help.
Mr Derbyshire said: "It's amazing news police have found something.
"Now I'm just hoping and praying more is found - the equipment really is irreplaceable.
"I haven't slept in four days due to worry and stress because of the theft, it has left me angry and frustrated."
He added: "If any further bags are found, please get in contact with the police."
Mr Derbyshire lost swords, spare blades, Team GB-branded kit, coaching equipment and an electric scoreboard during the incident.
A wheelchair worth £6,000 was also damaged in the morning raid.
He said the loss of his "entire livelihood" could possibly force him to retire.
The items were taken from a secure brick garage, but the base of a door was bent upwards to gain access.
Mr Derbyshire suffered a brain haemorrhage which caused meningitis in 2008.
Since then he has won national wheelchair fencing competitions, and was expected to compete at the London 2012 Paralympics before injury ruled him out.
Cheshire Police said two men appeared before magistrates earlier this week, charged with burglary.
Related Internet Links
The BBC is not responsible for the content of external sites.