Ethel Austin goes into administration for fifth time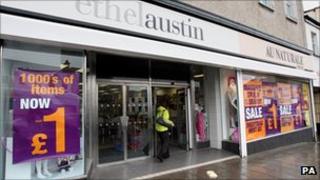 Liverpool clothing chain Ethel Austin has gone into administration for the fifth time in five years.
The brand, which has 28 shops left, was bought in July by Ricli Limited, which is owned by Liric owner and Greater Manchester businessman Mike Basso.
Insolvency practice XL Business Solutions confirmed it had been appointed by Ricli Limited to handle the administration.
The shops employ an estimated 200 staff.
Before the series of administrations which began in 2008, the company had 300 stores employing almost 3,000 staff.
The business was founded by Ethel Austin and her husband George in a Liverpool council house in 1934.