'Bulger killer Jon Venables images' appear online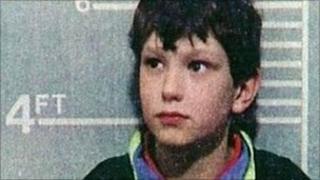 The attorney general is investigating after photographs said to show one of James Bulger's killers were allegedly posted on the internet.
Images purporting to be of Jon Venables appeared online. They have since been removed.
Venables, along with Robert Thompson, was convicted of killing two-year-old James in Merseyside in 1993.
There is a worldwide ban on publishing anything revealing Venables' current identity.
A spokesman for the Attorney General Office (AGO) said he could not confirm or deny whether the pictures were of Venables.
'Worldwide injunction'
He said: "The AGO has been alerted to a possible contempt of court. We are liaising with the Ministry of Justice and others to establish the facts.
"More than one police force is now involved in the investigation."
He added: "It should be noted, there is a worldwide injunction in place which prevents the publication of any images or information purporting to identify anyone as Jon Venables."
The images, which were later removed, purported to show an adult Venables posing with friends.
Venables was 10 when he and his friend Thompson abducted and murdered James.
Venables was released on licence in 2001 after serving his sentence for killing James, but was jailed for two years in July 2010 after admitting downloading and distributing indecent images of children.‪