Automotive park to create 1,000 jobs in Wirral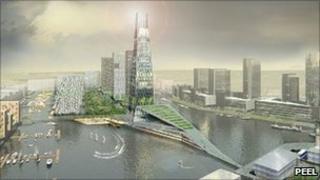 About 1,000 new jobs could be created at an automotive park being developed on Merseyside.
The Automotive Supply Park will house a number of factories producing parts for local car manufacturers, including Vauxhall and Jaguar Land Rover (JLR).
It is being developed by Peel Holdings at its Wirral Waters site in Birkenhead and could be up and running in 2015.
The scheme is backed by the government, which has earmarked it as an enterprise zone with special tax breaks.
Kevin Adderley, Wirral council's interim strategic director for regeneration and environment, said: "The majority of parts that make up the cars that are made in the UK actually come from abroad, so we are working with the automotive suppliers to get those parts manufactured here in the UK, on Wirral.
"If you take General Motors and JLR up the road at Speke, and you add together the wheels that go on their cars, there are 400,000 cars made from their factories a year so that's over 2m alloy wheels, none of which are made in the UK."
Phil Milwood from General Motors said the scheme would cut costs and provide opportunities for the area.
He said: "We have got significant freight costs with moving all these parts into the country, so there is really now a compelling business case to move those companies - if we can find the right suppliers - on to our shores to make parts."