Celebration held for murdered woman Helen McCourt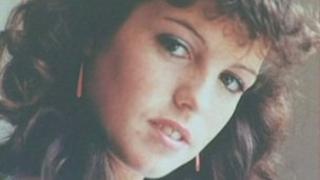 An evening of celebration has been held in memory of a St Helens woman who was murdered 25 years ago but whose body has never been found.
Helen McCourt, 22, disappeared near her home in Billinge, near St Helens, on 9 February 1988.
Pub landlord Ian Simms was convicted of her murder, but has never said where her body is.
Helen's family, friends and those who have helped search for her were at the memorial mass at St Mary's Church.
An evening to celebrate her life followed in the church social club.
Denied parole
The event was organised by her mother, Marie McCourt.
Simms was convicted of murder after blood and an earring identical to one Helen had were found in the boot of his car.
The jury agreed she had been attacked at his pub, The George and Dragon, in Billinge.
He is serving a life sentence having been denied parole and still maintains his innocence.
Helen went missing after she telephoned her mother to say when she would be home from work in Liverpool.
Mrs McCourt and her family have spent years looking for her body in a hunt which has included draining ponds and exploring old mine shafts. A digger has also been used to excavate ditches.