Raheem Sterling assault case adjourned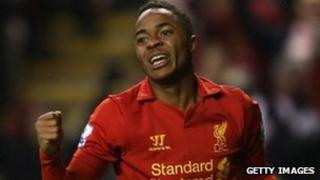 A court case involving Liverpool and England footballer Raheem Sterling has been adjourned.
The winger, 18, was charged with common assault after a 27-year-old woman known to the player suffered "slight" facial injuries, police said.
The incident is alleged to have taken place in Toxteth on 2 November.
Mr Sterling did not attend the hearing at Liverpool Magistrates' Court and his solicitor, John Brown, asked for the case to be adjourned following delays.
It has been rescheduled until 1 March.
Mr Sterling, who lives in Woolton, Liverpool, was initially summonsed to Liverpool Youth Court as the alleged offence took place when he was 17.
He turned 18 in December and the matter was transferred to the adult courts.
Sterling made his senior international debut for England last November against Sweden.