Kirkby Sunday league football fan 'brawl' sees man 'run over'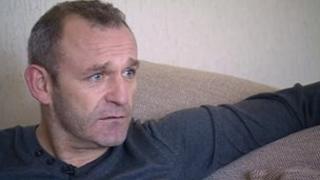 A Sunday league football match ended with a brawl between fans and a man run over on the pitch, a witness has said.
Merseyside Police said they were called to a disturbance at football fields near Simonswood Lane in Kirkby, where a number of matches were being played.
Shaun Reid, who was watching a nearby match, said: "I've seen one man with a hammer, one with a screwdriver.
"A car comes from nowhere and hits him on the bonnet, he went up in the air and landed on the windscreen".
It is understood the referee of one of the games decided to abandon his match. The brawl, thought to involve spectators, then took place.
'Chasing and fighting'
Mr Reid, 47, who is manager of Warrington Town, described the scenes as "pandemonium".
"It was basically chaos, people chasing each other and fighting, I've never seen anything like that [before]".
Police said a 22-year-old man who was run over went to hospital but then discharged himself without making an official statement.
It is unclear what prompted the disturbance.
Ch Insp Kevin Wellens said the behaviour seen was "totally unacceptable" and appealed for witnesses to come forward.
He said: "Football is a great game played by people in the community, enjoyed by everyone, we don't want to see it spoiled."
He said investigations were "currently ongoing to identify the parties involved and offences committed."