Second Eastern black rhino calf in six months for Chester Zoo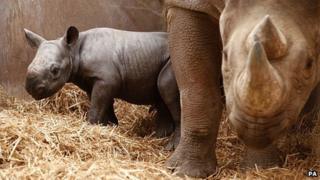 Staff at Chester Zoo are celebrating the success of their breeding programme following the birth of a second Eastern black rhinoceros in six months.
The calf, which was born on 7 March, is the offspring of seven-year-old mother Malindi and 13-year-old father Magadi.
She has not been seen by zoo visitors, as she is being kept in privacy while she bonds with her mother.
Curator of mammals, Tim Rowlands, said despite it being Malindi's first calf, she was "doing a great job".
The birth follows the arrival of another calf at the beginning of October and brings the number of Eastern black rhinos at the zoo to nine.
Mr Rowlands said the species was under "a very real threat of extinction" in the wild, due to illegal poaching, which makes every birth "vital to their survival".
"The zoo puts a vast amount of time, money and effort into trying to protect the species in the wild and supports a number of important reserves across Africa," he said.
"However, as demand for rhino horn intensifies, the poaching crisis is escalating out of control.
"That's why we need to ensure we have an insurance population in Europe and that's why this arrival is such great news."
Less than 650 Eastern black rhinos are thought to remain in the wild.