Why Liverpool never loved Margaret Thatcher
By Paul Burnell
BBC News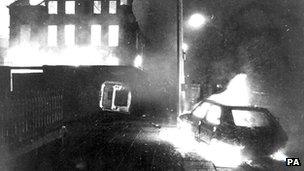 Joe Bennett can recall the mood of people in Kirkby as they heard the Bird's Eye factory was closing with the loss of 1,000 jobs in March 1989.
Eight miles away from the doomed factory, Lady Thatcher was surveying a site on Liverpool's waterfront - earmarked for redevelopment - trumpeting the virtues of the enterprise culture.
"It was like salt was being rubbed into our wounds," said Mr Bennett, a former official with the ASTMS (The Association of Scientific, Technical and Managerial Staffs ) union at the plant.
Mr Bennett said people in Kirkby were unlikely to mourn Lady Thatcher's death.
Like other trade unionists and opponents of Lady Thatcher's government, the Conservative Party was seen as being indifferent to the industrial decline in Merseyside.
"We all blamed the Thatcher Government," said Mr Bennett.
The image of Liverpool in the 1980s was of industrial unrest, rioting on the streets of Toxteth and the showdown between Mrs Thatcher and the Militant-led Labour Council.
Lady Thatcher's political opponents on Merseyside depicted the Tory government as heartlessly presiding over the region's decline and rising unemployment, and cutting its public services without compunction.
But according to Prof Jon Tonge, of the University of Liverpool Politics Department, the city was no different to any other northern city that depended on heavy industry.
"Lady Thatcher believed that declining industries should not be propped up," he said.
"A Labour government would not have been able to halt the city's decline in the 1980s, although the Tory policies may have exacerbated it."
Prof Tonge said the Militant councillors who thought they could beat Lady Thatcher "forgot that she had faced down General Galtieri during the Falklands War with Argentina".
However, the academic said Liverpool's problems were heightened by being a port facing the Atlantic at a time when Britain was beginning to trade more with continental Europe.
Prof Tonge pointed out that cabinet papers, released under the 30 year rule in 2011, showed that Mrs Thatcher's Chancellor Sir Geoffrey Howe [now Lord Howe] argued that Liverpool should be left to "managed decline".
While ministers such as the then Secretary of State for the Environment Michael [now Lord] Heseltine were arguing for regeneration funding to rebuild the riot-hit communities, Lord Howe thought it would be a waste of money.
He warned Lady Thatcher "not to over-commit scarce resources to Liverpool".
Lord Howe has since said his letter was misunderstood.
"Lady Thatcher did not support Lord Howe's proposal," said Prof Tonge.
The papers also revealed that one of Lady Thatcher's senior advisers said it would be a waste of time sending Lord Heseltine to Liverpool in the aftermath of the Toxteth Riots.
"The fact is she allowed me to do it," said Lord Heseltine, adding that it was an exaggeration to say she did not care about the city.
The suggestion that Lady Thatcher had anything personal against Liverpool or its politicians is also discounted by one of her strongest ideological opponents.
Former Labour MP Tony Benn recalled his surprise at meeting her at the memorial service to another left winger, Eric Heffer, former Labour MP for Liverpool Walton.
"I looked behind me and saw Mrs Thatcher. I thanked her for attending and she burst into tears," he said.
Whatever her personal attitude to Liverpool, the perception that the Conservatives are hostile to the city remains, according to Prof Tonge.
He explained that in 1979 when Mrs Thatcher became prime minister, Sir Malcolm Thornton was first elected as Conservative MP for Liverpool Garston.
By the time she left office in 1990, blue was a missing hue on the Liverpool parliamentary map and Sir Malcolm had become MP for the more prosperous town of Crosby. Liverpool has no Conservative councillors.
"She would be very proud of what she did in the North West. She would say 'industry has been modernised, look at the advance'," said Sir Malcolm.
"This was a very very painful operation but at the time the problem was not what she was doing but the image she created while she was doing it."