Anne Williams: Hillsborough mum who took on the law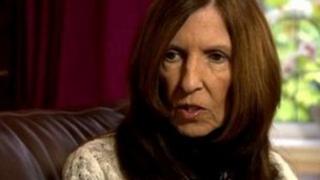 Anne Williams did not train as a solicitor. But, to chat to her, you would think she had been practising law for years.
The housewife and mum from Liverpool, in her fight for justice, became a de facto expert in the workings of the British and European legal systems.
She presented her case to four Attorney Generals and took it to the European Court of Human Rights.
For more than two decades she explored every possible legal avenue on behalf of her teenage son Kevin.
Sometimes, when talking to her, it was hard to keep up so detailed was her knowledge of the latest development. She was driven by grief, anger and an unshakeable need to know the full truth about what her happened to her child.
Anne was incensed by the coroner's assessment that Kevin had died by 15:15 on the afternoon of the disaster. She was certain that he was still alive until 16:00, and could have been saved.
She traced her own witnesses, pieced together Kevin's last moments and found the people who tried to help him.
The irony was that although she continued to press for a fresh inquest, Anne felt that she had already worked the details out for herself.
"I'll wear them down"
"I knew I was right in 1991," she told me, when I went to see her in December.
"The evidence has always been there... but I knew then that I was fighting the British legal system and as my barrister always said if Kevin had got through it would have opened the gates because there was so much evidence."
The publication of the Hillsborough Independent Panel report in September changed everything for Anne. In its wake, she resubmitted her case to the Attorney General.
By then suffering from terminal cancer, she was brought to the High Court in her wheelchair to see the original inquest verdict of accidental death quashed.
Afterwards, grinning from ear to ear, she said: "It's a good feeling, because they bounced me from one wall to the other, and I knew what they were doing. I thought 'They're wearing me down, but I'll wear them down before they wear me down.' And I've actually done it!"
Whenever I met Anne I was struck by her quiet dignity, which somehow sat easily alongside her fierce determination and conviction.
She knew that she may not live to see the new inquest, but, when it begins, there will be many there who feel indebted to her.