Call to stop sale of Sefton Park Meadows in Liverpool rejected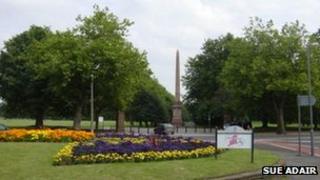 A motion to stop the council selling off land near Liverpool's Sefton Park to developers has been rejected.
Lib Dem councillors lost a vote to prevent the sale of green space in Aigburth, known as Sefton Park Meadows.
Mayor of Liverpool Joe Anderson said the city had no choice but to sell it due to government funding cuts.
Lib Dems leader Richard Kemp said he was disappointed but did not think a developer would be forthcoming in building houses on the land.
Councillors voted in favour of marketing the land for development at a full council meeting at Liverpool Town Hall on Thursday evening.
'Pushing up daisies'
Mr Anderson has said at a previous meeting it is a piece of land which is not used very much and he defended the decision to sell it off.
He said: "I run this city for the whole of the city not just people who live around Sefton Park.
"I think most people are reasonable and understand the tough decisions that I have to make and I do them in the best interests of the city."
Mr Kemp said the idea that the meadow land is not used a lot was "ludicrous".
He said: "Three weeks ago 400 people had a picnic on the site and all of them and more have a story to tell about how they use the land and about how the appearance of the land is uplifting for residents, park users or those just travelling through."
He said he doubted any developer would be building on the land any time soon.
"This is land with rights of way problems, with conservation area problems, with true protection orders.
"Joe Anderson and I will be pushing up the daisies while the children, the grandchildren and great-grandchildren of the current generation with be making daisy chains," he said.
"This isn't going to happen but the council now needs a strategy which incorporates it into proper development for proper use and a real green strategy, not just in the south of the city but in the north of the city, too."