Hillsborough inquest date set for early next year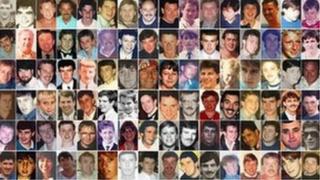 A fresh inquest into the deaths of the 96 Hillsborough victims will take place in early 2014, a coroner has confirmed.
Families of the victims heard the decision at the Family Division of the High Court in London earlier.
The location will be confirmed next week - some families asked for it be held in London and others in the North West.
A new inquest was ordered in December when the High Court quashed the original accidental death verdicts.
The Liverpool fans died following a crush in a 1989 FA Cup semi-final.
'Powerful reminder'
Coroner Lord Justice Goldring said he would not wait for the completion of ongoing criminal and Independent Police Complaints Commission investigations before going ahead with the inquest.
He told families: "Anne Williams' death is a powerful reminder, if one were needed, that there is an urgency attaching to the commencement of the inquest hearings as well as a need for that investigation to be as full as possible."
Leading campaigner Mrs Williams, whose son Kevin died at Hillsborough, in Sheffield, died a week ago after suffering from cancer.
Families had argued for the inquest to be held urgently.
The original inquest was held in Sheffield and families want the new hearing held elsewhere.
Hillsborough Family Support Group (HFSG) chairman Trevor Hicks, whose teenage daughters Sarah and Victoria were killed, has said Sheffield "didn't serve us well on the last occasion".
Michael Mansfield QC, representing the 71 families in the HFSG, told the judge the inquest should be held in London because it is an impartial region, and should start no later than in January.
Barry Devonside, a member of the Hillsborough Justice Campaign who lost his son Christopher at Hillsborough, said he hoped the fresh inquest would not be in London.
He said: "We would prefer Manchester, Preston or Chester because families will be able to travel in the North West and we don't think it's possible for a Liverpool jury to preside over the inquest.
"We don't have a bottomless bucket of funds to keep travelling to London."