Croxteth Young Guns gang fuelled by 'postcode tribalism'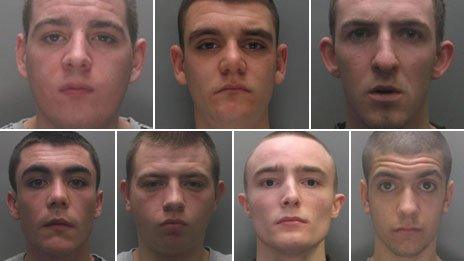 They called themselves the Croxteth Young Guns, dealt in drugs and firearms, and carried out arson attacks with petrol bombs made out of Lucozade bottles filled with white spirit.
Police said the Liverpool gang members who were put behind bars on Monday left people in the neighbourhood "petrified".
The young guns were fuelled by "postcode tribalism" with a gang in neighbouring Norris Green, according to police.
The gang emerged as Norris Green's new rivals after the Croxteth Crew were locked up for their part in the murder of 11-year-old Rhys Jones, who was shot dead in 2007 as he walked home from football training.
They continued the feud which was highlighted in Rhys's murder trial.
The gang carried out shootings and firebomb attacks including one in which a 13-month-old baby girl had to escape from a first-floor window.
The Young Guns also turned on their own gang members who decided for whatever reason to leave.
During the trial, the court heard how former gang members faced shootings, a "kneecapping" and arson attacks.
There was even an attempted execution of an ex-gang member, but the gun failed to go off.
The gang also dealt in drugs which funded their main activity of feuding with rivals and former friends.
The judge, Mr Justice Openshaw, said none of the gang members had "ever done an honest day's work in their lives or even aspired to do so".
He said: "Their days were spent posturing outside shops and dealing drugs.
"It is as if they belonged to some sort of lawless tribe which had rejected all of society's moral standards and conventions."
Their convictions came after an 18-month investigation by Merseyside Police.
Officers seized firearms - two of which were used in three shootings including one in which a man was kneecapped - live bullets and a replica grenade, as well as drugs, in raids on the gang. One of the firearms was disguised as a key fob. Guns were also found on waste ground in Croxteth.
Det Insp Mark Kameen described the gang as "violent, feral youths who thought they were a law unto themselves".
He said Croxteth and the surrounding area was a safer place now they were behind bars.
Related Internet Links
The BBC is not responsible for the content of external sites.