Plans for new £9m railway station in Warrington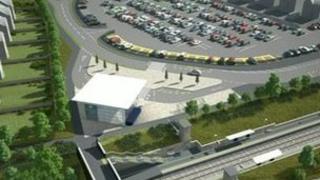 Proposals to build a £9m railway station in West Warrington are being put forward by the borough council.
The council said a new station near Chapelford was needed to cope with an increase in passenger numbers.
New housing developments and industrial estates in the area have increased the demand for public transport, the council said.
Consultations will be held throughout June to seek the public's views on the proposals.
Plans for the station include parking for about 350 cars, cycle lockers, a taxi rank and new bus stops.
Councillor Linda Dirir, executive board member for highways, transportation and climate change, said: "At the moment, more than 70% of work-related trips in Warrington are made by car.
"We need to cut congestion and pollution and improve people's choices when it comes to local transport."
The council hopes to open the new station before the end of 2016.