Merseyside waste £1bn contract: Mayor slams Teesside decision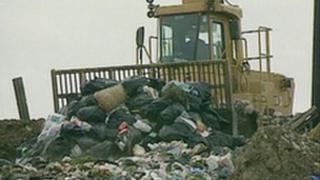 The decision to award a Teesside firm a £1bn contract for disposing of Merseyside waste has been criticised by the Mayor of Liverpool.
Sita UK was named preferred bidder over Covanta, which was proposing a site at Ellesmere Port based by Merseyside Waste and Recycling Authority (MWRA).
Mayor Joe Anderson claimed hundreds of jobs and investment were "snatched from the grasp" of Merseyside.
The MWRA said the contract would save £145m ($222m) in landfill costs.
Mr Anderson, leader of Liverpool City Council (LCC) said in a statement: "Although local authorities on Merseyside didn't want the facility on their patch, a bid was put in to have it in Ellesmere Port which would have allowed people living in the city region to apply for the jobs created.
"I feel [the region] has had a massive opportunity for major infrastructure investment snatched from its grasp and hundreds of potential jobs which we desperately need have gone to the North East."
He said he could not understand how it could be "more environmentally friendly and more cost effective" to ship waste 150 miles away to Teesside rather than disposing of it locally.
He also added he wanted to understand why he was not consulted "in such a huge decision" and discovered it by reading a press release.
In response a spokesman for the MWRA said the decision had the support of all six district councils that form the Merseyside and Halton Waste Partnership.
The spokesman said: "The decision was reached as part of a competitive tendering exercise scrutinised by the nine elected members (from constituent district councils including three councillors from the LCC) that make up the MWRA governance structure."
The authority said Sita's bid included a new facility at Teesside's Wilton International site, which would create around 50 jobs, and a new rail hub to transport waste at an existing rail freight terminal in Kirkby, which would create approximately 25 jobs.
The MWRA said the proposed 30-year deal would result in savings of £145m for the MWRA and its partner councils and the disposal of 90% of Merseyside and Halton's residual waste away from landfill, which would comply with the European Union Landfill Directive.
It said it was part of a project to provide a sustainable and cost-effective solution for 430,000 tonnes of municipal waste each year, which has not been recycled.