Manchester Ship Canal sees freight 'renaissance'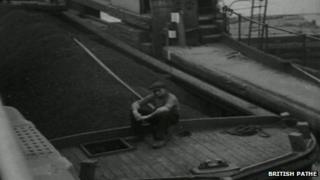 Images of freight barges slowly sailing goods along Manchester Ship Canal may have seemed consigned to the past after motorways became the fast and easy option for businesses.
But waterways in the north-west are undergoing a "renaissance", according to the Freight Transport Association (FTA), and the sight is set to become much more common.
Road congestion and soaring fuel prices have left firms looking for a cheaper, more reliable and greener alternative.
In an attempt to answer this demand, Peel Ports, which owns the Port of Liverpool and Manchester Ship Canal, is investing £500m to increase capacity.
Work has already started on deepening the River Mersey to allow the new generation of super-sized cargo ships to dock at the planned Liverpool 2 terminal.
Currently the only two UK ports large enough to house the ships, which are the length of four football pitches and the height of 14 double-decker buses, are in the south-east.
That means goods have to travel hundreds of miles north by road.
Allowing the ships to sail directly into Liverpool and companies to by-pass the congested roads will boost the north-west economy by billions each year, Peel predicts.
'Huge savings'
James Hookham, of the FTA, said: "Given the pressures of the recession innovations like this will be very welcome provided the services are reliable and they cost no more than the way goods move at the moment.
"I'm sure plenty of businesses will be looking at this seriously."
Businesses have been quick to realise the potential savings on fuel and carbon footprints.
Already, the number of containers being shipped via the canal has increased from 3,000 in 2009, to about 25,000 this year, and Peel hopes that will rise to 100,000 by 2030.
Gelert Camping Supplies, based in Widnes, started using the Port of Liverpool and the canal system last year to bring in 1,000 containers from China.
Spokesman Trevor Macartney said: "Previously we were bringing goods in through southern ports which are based 250 miles away, so it makes sense for us.
"It takes an extra four or five days on the water so there's additional cost from the ocean freight point of view, but the haulage is only 20 miles so we save 90% of the road transport side of things.
"It's saving money and it's good for the environment."
Canal shuttles carry 250 containers, which is potentially 250 less lorries clogging up the roads, and a larger canal transporter is now in use moving 2,000 containers at a time.
The next stage of the firm's plans involve creating a £140m hub at Port Salford with warehousing and a linked-in road development scheme.
New ports will also be built at Wirral, Bridgewater, Ince and Warrington.
Gary Hodgson, managing director of Peel Ports Mersey, said the planned investment would result in "huge savings in cost, carbon and congestion for the UK".
He added: "It's a catalyst for change for the port. Once we link that with investments we're making in Manchester Ship Canal, that will allow shippers to move cargo from the Far East through Liverpool 40 miles inland towards Manchester into warehouses without touching a single mile of UK roads."
However, as more north-west businesses are convinced of the benefits of canal transportation and ships are attracted to dock in Liverpool, it remains to be seen how docks in the south-east will be affected.