Man sues over forensics live bullet conviction mix-up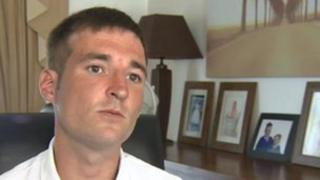 A man wrongfully convicted of possessing ammunition after forensics staff mixed up his £3 keyring and a live bullet is suing the government.
Thomas Smart, 25, of Fazakerley, Liverpool, received a four-month suspended jail sentence and completed 180 hours of community service in 2008.
The, now disbanded, Forensic Science Service (FSS) said a bullet found in his room was live.
It later admitted it was a keyring he bought for £3 at a car boot sale.
Mr Smart's conviction was quashed in 2009 after the FSS, which was owned by the government, wrote to police admitting the wrong exhibit had been examined.
Negligence claim
He was denied compensation by a judge who ruled the FSS was protected by the legal immunity from civil negligence claims granted to witnesses and experts in criminal trials.
Mr Smart has now taken his claim for negligence, violation of human rights and deceit to the Court of Appeal, where he is seeking thousands of pounds in damages.
His solicitor Chris Topping said: "If successful it looks like we'll be creating a precedent whereby a prosecution expert witness will be held liable to defend it [the evidence] in criminal proceedings."
Mr Smart alleges crucial exhibit records were altered and that one member of staff either knew the "bullet" was not a live round or was "recklessly indifferent" to the truth.
The "bullet" was found in Mr Smart's bedroom during a police search of his home for a reason unconnected to him, the court heard.
When forensics experts said it was a live bullet Mr Smart was forced to plead guilty to the crime and suffered depression and anxiety due to his arrest and wrongful conviction, judges were told.
'One shudders'
His QC, Pete Weatherby, told the court there was evidence to suggest the item's exhibit reference number had been changed at some point.
The incident led to an internal inquiry and changes were made to systems as a result.
Lord Justice Moses observed: "One thing that you must never do is alter exhibit numbers... a child would know that.
"I hope that this does not happen very often. If it does, one shudders."
Outside court Mr Smart said: "I was lucky that this error was spotted, but how many other people does this happen to?
"If they hadn't realised their mistake, I would never have been able to challenge the result because, even if I'd arranged for the bullet to be re-tested, it would have been the wrong exhibit."
The Ministry of Justice was unavailable for comment.
The Appeal Court has reserved judgment for a further hearing.