Wirral gang used power tools to steal cash machines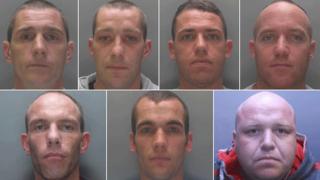 Gang members who stole cash machines and a safe netting more than £120,000, have been jailed.
All seven had admitted conspiracy to steal and were sentenced at Liverpool Crown Court.
Judge Thomas Teague QC said the gang had viewed the offences as "a way to get easy money."
They used power tools in 10 raids, which took place in Wirral, Derbyshire, Worcestershire, north Wales and Stafford.
Their six-month long stealing spree, ending in February last year, involved deactivating alarm sensors during the day and returning at night with angle grinders to break into cash machines.
Unsuccessful raid
Terence Doughty, 34, of Deakin Street, Birkenhead and Anthony Edwards Sutton, 32, of Oakwood Park, Birkenhead, were each jailed for four years.
Craig Brennan, 28, of Hampton Chase, Prenton, who took part in six raids, received three and a half years. Les McStein, 30, of Oxford Road, Wallasey, who was involved in five, was jailed for three years.
Kevin O'Loughlin, 36, of Canterbury Road, Wallasey, participated in four raids.
He is currently serving a prison sentence for similar raids and Judge Teague sentenced him to 21 months, to run consecutively with his current term.
Gary Carey, 36, of Gorseburn Road, Tuebrook, Liverpool, who met the gang while in prison, was jailed for three years nine months,
Brennan's brother, Kevin Brennan, 29, of Falklands Street, Birkenhead, who acted as a getaway driver after an unsuccessful raid at the Co-operative store in Noctorum Avenue, Prenton, on February 16, was sentenced to eight months in jail.
'Guiding minds'
The court heard the largest sum taken was £103,000, seized by the gang in two raids at Tesco Express in Evesham, Worcestershire, in October 2011.
The following January, Doughty, one of the two "guiding minds", and Brennan broke into the Arriva Bus depot in Rhyl, stealing the cash vault and cash box with £9,500 and causing almost £20,000 damage.
A month later, in a third successful raid, they targeted a convenience store in Preston, where Doughty, fellow ringleader Edwards-Sutton, Brennan, McStein and Carey, used industrial power saws to get in through the roof, to steal just under £8,000 from the cash machine.
Carey also admitted stealing £13,000 from a cash machine at a newsagents in Bristol in March 2011.
The seven men were all arrested in May last year.
They were brought to justice following an intensive police operation, codenamed Barnadino 2.