Mersey Gateway project: Merseylink named as preferred bidder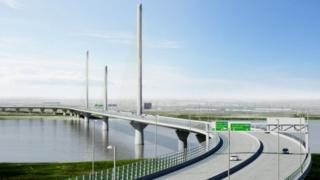 Merseylink has been named as preferred bidder for a project to build a second bridge across the River Mersey.
The £600m Mersey Gateway scheme will see the building of a six-lane toll bridge between Runcorn and Widnes.
Halton Borough Council and Merseylink said final details will now be discussed before a contract is signed.
Site clearance and demolition is planned to start later this year. Construction is expected to take about three years.
The bridge is intended to ease congestion on the Silver Jubilee Bridge, which has been in place since 1961.
The existing bridge will also be tolled as part of the project.
'Stuck in queues'
In 2011, the government said it would pay up to £470m towards the cost of building the bridge. The remainder would be funded by the private sector, the council said.
Project leaders said 470 jobs will be created during construction, with an estimated 4,500 direct and indirect roles opening after completion.
Rob Polhill, leader of Halton Borough Council, described it as a "hugely important day for Halton and the north west of England".
He said: "This partnership with Merseylink will deliver Mersey Gateway for the next 30 years and it is very exciting to be part of something that will bring thousands of jobs and major regeneration opportunities.
"We all know something needs to be done to relieve the pressure on commuters who are used to being stuck in queues to cross the Silver Jubilee Bridge and we know from talking to local businesses, both big and small, that this is a major issue when it comes to growing the north west economy."
Chris Rhead, project director for the Merseylink consortium, said: "Our consortium has a wealth of experience of major projects across the globe and we are confident that we have the capability to deliver the Mersey Gateway bridge to schedule and budget, with the least possible disruption to the local community."