Search finds missing boa constrictor in Huyton after nine days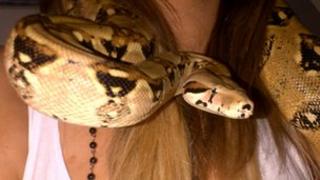 A 5ft (1.5m) snake has been found in the same room it went missing from after a nine-day search.
The four-year-old boa constrictor, called Petzi, went missing from Parbrook Road, Huyton, Merseyside on 4 July.
Police had advised the public not to approach the snake as it could become aggressive if frightened.
The snake was found "covered in dust" under a cabinet by the owner Jennifer Whitby.
She said: "There's a psychic who lives on our road, she actually told me that my snake was definitely in my house and it was by the tank somewhere.
She added: "I just took no notice - but we found her under the cabinet, on the floor with dust all over her.
"She has been out somewhere, but she must have come back to try and get back in the tank where the heat is."
Boa constrictors are commonly found in tropical forests in South America and are from the family of constricting snakes, which kill their prey through asphyxiation.