Liverpool's Welsh Streets plan backed by councillors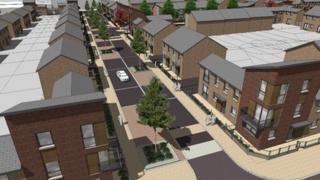 Councillors have approved a £15m regeneration plan for Liverpool's Welsh Streets by building new homes and refurbishing some existing properties.
The council planning committee backed plans to build more than 150 new homes on the streets in Dingle and Toxteth.
Thirty-seven houses will be restored including 9, Madryn Street - birthplace of former Beatle Ringo Starr.
The regeneration will also see 280 houses demolished, ending 10 years of consultation.
A further 160 houses could be demolished in the second phase of the development which has yet to be approved
Irene Milson, chair of the Welsh Streets Tenants' Association said: "We've waited a long time for this. I'm so happy for the people that deserve better homes.
"I'm over the moon."
But another local campaigner, Jonathan Brown, who works with Save Britain's Heritage, said it was still hoped the council and housing association Plus Dane would agree to save more homes from demolition.
"They have moved a little bit and it would be good if they could move some more," said Mr Brown.
'Determined community'
Liverpool City Council's cabinet member for housing, councillor Ann O'Byrne, said: "It's a huge milestone in delivering this vitally important scheme for the area.
"Local residents have waited too long for the investment this area so desperately needs. They have shown real determination and fantastic community spirit for more than 10 years, to fight for a future where boarded-up, derelict properties are replaced by modern, family homes.
Ken Perry, chief executive of Plus Dane Group, said: "Plus Dane has long been committed to working with local residents to develop a scheme for new homes that will have the biggest impact on the lives of local people and support the wider regeneration of the area."
Of all the houses included on the site, 40 will be retained. These include the refurbishment of 37 terraced properties - 16 of them on Madryn Street, five on High Park Street and 16 on Kelvin Grove.
The plans, between the council and Plus Dane, include demolishing the homes to make way for affordable new homes - many with gardens - which will be available for sale or rent.