Liverpool widow takes hospital to court over withdrawal of treatment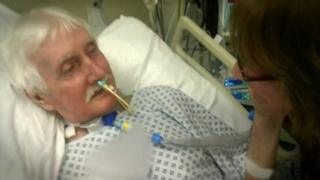 A widow has called on the Supreme Court to rule that doctors should not have been given permission to withdraw treatment from her husband.
David James, 68, of Liverpool, died in 2012 - days after doctors successfully argued in court that stopping treatment was in his best interests.
May James said the court should have ruled in favour of protecting life.
Aintree University Hospitals NHS Foundation Trust said he was deteriorating after cancer surgery.
The case is being considered by a panel of Supreme Court justices at a two-day hearing, which is due to end on Thursday.
A decision is not expected until later in the year.
'Critically ill'
Mr James had been in intensive care for seven months and was "critically ill and steadily deteriorating", doctors said.
They said he had a range of problems, including multi-organ failure.
The hospital initially asked a High Court judge in the Court of Protection to agree they should withhold treatment if his condition deteriorated.
Mr Justice Peter Jackson rejected the hospital's argument and sided with relatives, who opposed the hospital's application.
But that decision was overturned when the hospital took their case to the Court of Appeal.
Mrs James now wants the Supreme Court to overrule that decision and support Mr Justice Jackson's original ruling.
She said the Court of Appeal decision undermined the "protection" given by "legal presumption in favour of preservation of life".