Liverpool tunnel collapse: Residents' frustration a year on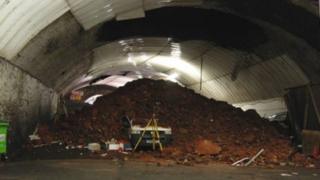 A year on from a tunnel collapse in Liverpool, more than a dozen evacuated residents are still waiting to return to their homes.
Joe Burke, a resident of Sundridge Street, Dingle, now lives in temporary accommodation within sight of his house.
He said: "It's the first thing I see when I open the curtains and it's the last thing I see when I shut them. I can't believe it has been a year."
The former train tunnel, built as part of the Liverpool Overhead Railway, runs underneath homes in the area.
A section, being used by a garage, collapsed on 24 July 2012. A survey found 11 properties to be "unsafe for the foreseeable future".
Some residents on Sundridge Street, Dingle Grove and Toxteth Grove were forced to leave their homes.
'Affected terribly'
Mr Burke said: "I was living with my brother for three and a half months, I've lived in a hotel. It has been an absolute nightmare.
"We were told by the council in January that they had agreed with the insurers to repair the tunnel and we were going to move forward.
"Since then, we have been at a crossroads, nothing has happened. I keep ringing the council, they keep saying there's a couple of minor difficulties they are trying to iron out with the contractor and we are hoping to move on."
He added: "One of the residents has four lads and they all had to be moved to various relatives. We have all been affected terribly."
Maria Sullivan, another Sundridge Street resident who was told her property was unsafe, said she checks on her home through a fence outside.
She said: "You can see weeds that have grown sky high in the garden, it's like a jungle in there.
"We have got to clear it all up once it is done; it's going to take us months to get it back to the way it was."
Damage assessment
Mrs Sullivan, who is also in temporary accommodation nearby, said: "It's still stressful, we are in limbo, we don't know if we are coming or we are going."
In a statement, Liverpool City Council said: "We recognise the frustration of the residents and the desire of some of them to return to the homes.
"However, while the discussions have not been completed we cannot give a timescale as to when the work will be completed.
"We are trying to keep the residents informed, and have recently held a meeting with them and subsequently written to them."
Mr Burke said they were still waiting for a full damage assessment to take place in the tunnel. He expects to remain away from his home for a while yet.
"I just want to go home, hopefully this year," he said.