Liverpool street cleaning dispute ends after agreement reached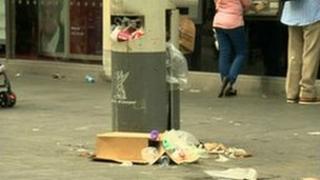 Strike action by Liverpool's street cleaners has been suspended following talks with the city's mayor and the contractors.
Previously, visitors were asked to take their rubbish home with them following the dispute between staff and contractor Amey.
The action was suspended after discussions between both sides and the Liverpool Mayor Joe Anderson.
The company said it was "pleased" the strike had been suspended.
Behind schedule
A spokeswoman for Amey said: "We are pleased that our discussions with the unions and the Mayor have resulted in the GMB and Unite suspending their strike action.
"We remain committed to continuing dialogue with the unions to resolve any outstanding issues and our priority now is to work with the council to get the waste collection, grounds maintenance, highways and street scene services in the city back on track."
A separate work to rule is affecting highways, street cleansing, some grounds maintenance and household waste collections.
On its website, Liverpool city council says waste collections are currently five days behind schedule.
George Patterson of the GMB union said: "We have suspended the strike and we are in constructive talks over the work to rule. We are meeting now with the shop stewards."