Head of Merseyside anti-gun unit 'getting a grip' on spiral of violence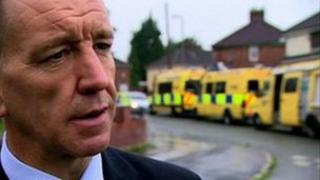 The head of Merseyside Police's Matrix team says the anti-gun unit is getting a grip on what had become a spiral of violence.
Det Ch Supt Paul Richardson took over last year when there had been an increase in shootings on Merseyside.
There had been seven deaths on Merseyside in the year until April 2013, compared with two in 2012.
In recent months there have been fewer shootings.
The figures show shootings are down from 62 to 34 over a five-month period up to 16 August in 2013 compared with the same period in 2012.
There have been no deaths between April and August this year.