Liverpool FC celebrates Bill Shankly centenary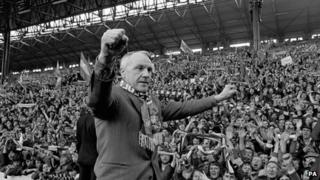 Celebrations across Liverpool have been held to commemorate the 100th anniversary of the birth of legendary former manager Bill Shankly.
Liverpool Football Club announced a series of events to mark the centenary.
A one minute's applause took place before the Manchester United match on Sunday with fans on the Kop holding cards to create a mosaic.
A dinner with Shankly's family took place on Saturday at Anfield hosted by TV presenter Colin Murray.
It replicated the menu served at Shankly's retirement dinner 39 years ago. During the dinner, a Shankly Foundation was established.
A museum dedicated to the former manager will also be set up at the Boot Room Cafe at Anfield throughout September.
'Very special man'
Former player Ian Callaghan, 71, said he first met Shankly when he was 16.
"I never had a crossed word with him," he said. "From a personal point of view he was a very special man. I pinch myself today thinking I played for this man for 14 seasons."
Shankly, who died in 1981, was born in Glenbuck, Ayrshire.
Callaghan said the manager made promises "but he kept them all", adding that one of the promises "was to make Liverpool Football Club great - and he did".
He described Shankly as a "nervy type, sipping water and walking round" before matches.
"He had this character he could get players to go out and give 110%. He was a great motivator of people.
FA Cup twice
"He took to the Liverpool people. It was a great relationship. They were a second division club going nowhere when he arrived."
Under Shankly, Liverpool won the FA cup for the first time in the club's history. Callaghan added: "Even the Evertonians loved him."
He took over as manager in 1959 when the club was in English football's second tier and had established a footballing dynasty by the time of his retirement in 1974.
His spell at the club laid the foundations for Liverpool's dominance of European football in the late 1970s and early 1980s.
His team won the First Division title in 1964, 1966 and 1973 and the FA Cup in 1965 and 1974.
LFC managing director Ian Ayre said the name Shankly was "and always will be" synonymous with the club.
"We continue to live and breathe those values he created over 40 years ago," he added.