University of Liverpool staff vote for strike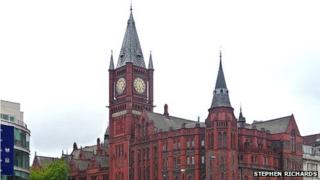 Non-teaching staff at the University of Liverpool have voted to strike over "damaging" new contracts and working conditions.
The University and College Union (UCU) said 62% of members who voted chose to strike, with 82% backing other action.
It claims that if staff do not accept new terms they could be given three months' notice and rehired on new "unfavourable" conditions.
The university said it was committed to reaching an agreement with unions.
University 'committed'
UCU regional official Martyn Moss said: "UCU members at Liverpool have made it quite clear that they are prepared to take industrial action to defend their rights at work.
"We have a clear mandate for action, but we always want to try and resolve these things without any disruption. We hope the university will come back to the table now with a similar desire.
"We don't know of any other university that has attacked its staff's terms and conditions in this way.
"Threatening to dismiss more than half of its staff risks doing serious damage to the good reputation of the University of Liverpool."
A University of Liverpool spokesperson said: "The university is aware of the outcome of the UCU ballot.
"Of our 5,400 staff, 900 were eligible to vote.
"Of these, less than 300 voted in favour of strike action.
"We remain committed to achieving an agreement with the trades unions on the terms of the new contract."