Liverpool choirboy Jack Topping, 11, lands record deal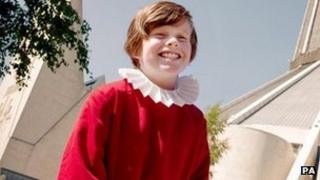 An 11-year-old choirboy from Liverpool has signed a deal with the record company that famously turned down The Beatles.
Jack Topping is the youngest person to be signed by the Decca label and will release his debut album in November.
The youngster, who is an ambassador for the Save The Children charity, was discovered while singing in the Liverpool Metropolitan Cathedral Choir.
His Wonderful World album will feature two covers of Beatles songs.
Jack will do versions of the Fab Four's Let It Be and The Long And Winding Road as well as Ave Maria, Pie Jesu, The Lord is My Shepherd and You'll Never Walk Alone.
Dickon Stainer, president of Decca Records, said: "He's the Gareth Bale of choristers, a once in a generation talent."
His voice will also be heard on the Save the Children's Christmas ad campaign song Tomorrow.
Decca turned down The Beatles after auditioning them on New Year's Day 1962, reportedly telling them guitar bands were on the way out.