Hillsborough families to meet DPP and IPPC over concerns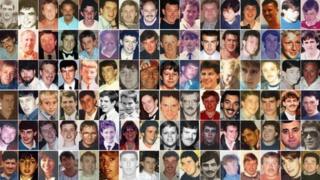 Hillsborough relatives are to meet the senior prosecutor for England and Wales and the head of the police watchdog over concerns about the investigation.
It will take place at the headquarters in Warrington where the investigation into the 1989 tragedy is based.
The families will discuss concerns about the investigations with DPP Kier Starmer and Anne Owers of the IPPC.
Professor Phil Scraton, a key author of last year's Hillsborough report, is also concerned.
Ninety-six people died as a result of the crush before the FA Cup game at Sheffield Wednesday's ground.
There are three investigations into the disaster, which have resulted since the Hillsborough Independent Panel (HIP) published its findings a year ago.
Evidence is being gathered for a fresh inquest, the IPCC is investigating allegations that South Yorkshire Police covered up their failings and a third probe headed by former Chief Constable Jon Stoddart is investigating whether any authorities from the police to the Football Association are guilty of manslaughter or criminal negligence.
Professor Scraton said he had "real concerns" about the role of the Challenge Panel, which it was revealed on Wednesday would oversee the investigations.
The lead writer of the HIP report on the failings said he was frustrated by how little progress has been made in the investigations so far.
'Families' wishes'
Professor Scraton said he was not on the new panel despite the wishes of the Hillsborough Families Support Group, who represent the majority of the victims' families.
He said the new panel would lack detailed knowledge of the case.
"To have rigorous oversight on what is actually happening in terms of the investigations it is absolutely necessary to have a panel that has at least has one member, if not two, that has that in-depth knowledge of Hillsborough, otherwise from what knowledge base are they challenging?" he added.
A Crown Prosecution Service (CPS) spokesperson said Mr Starmer had explained to the victims' families the panel's role would be more limited than originally envisioned prior to the inquests "for practical reasons".
"Circumstances have changed since the original remit of the panel was discussed, in particular the appointment of the coroner and the resulting refocusing of the investigations by the IPCC and Mr Stoddart to support the inquests," said the CPS spokesman.
"The coroner has made clear that his independence and that of the investigators working to him must be protected.
"This has required us to reconsider the panel's role as it could not effectively scrutinise the on-going investigations without potentially interfering with the coroner's work."
The original inquest verdicts of accidental death were quashed in December at the High Court.