Liverpool court clerk jailed for driving licence scam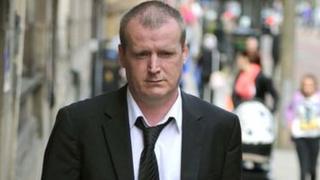 A court clerk who helped more than 70 motorists to falsify their driving records and help them escape bans has been jailed for six years.
David Kelly, 47, from Liverpool, ran the "corrupt business" from his office inside the city's magistrates' Court.
He was found guilty at Preston Crown Court of 23 counts of conspiring to pervert the course of public justice after denying all the charges.
Three of his "customers" were also jailed for their parts in the scam.
Liverpool underworld
Sentencing him, Judge Graham Knowles QC said Kelly, who worked as a court administrator for 20 years, had committed a "gross breach of trust".
The court heard that motorists would pass on cash to middle men who had contacts within the Liverpool underworld and their details would be handed to Kelly.
He then applied to the Driver and Vehicle Licensing Agency (DVLA) to remove details of convictions, disqualifications and penalty points on 110 occasions between 2004 and 2010.
Judge Knowles QC said Kelly was running a "corrupt business at the court, bypassing justice after everyone thought it had been done".
The Crown Prosecution Service (CPS) said fingerprint evidence and a handwriting expert proved that he wrote and submitted numerous bogus documents to the DVLA.
Computer evidence also showed he checked the progress of these requests on a computer system linked with the DVLA.
'Undermines public faith'
Det Ch Insp Andy O'Connor, of Merseyside Police, said Kelly, from Southern Crescent, Toxteth, had abused his position.
He said: "Public corruption is an extremely serious offence that undermines public faith in the integrity of those who work in the criminal justice system.
"Public servants are required to act with integrity, honesty, objectivity and impartiality but Kelly's actions could not have been further from each of these.
"His actions have undermined the criminal justice system and the very laws which he was employed to uphold."
Mark Camello, 33, of Nightingale Road, Croxteth was jailed for 14 months and Shaun Robinson, 24, of Britannia Crescent, Toxteth and Samantha Evans, 24, of Meldon Close, Croxteth were each jailed for 12 months.
Evans was also found guilty of fraud.
Camello, Robinson and Evans had all pleaded not guilty at an earlier hearing.