Liverpool City Council considers scrapping bus lanes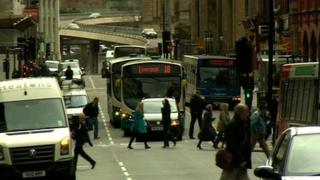 Bus lanes in Liverpool could be temporarily scrapped in the hope of reducing congestion in the city.
Mayor Joe Anderson said research showed the dedicated lanes were not encouraging more people to use buses and could be causing traffic jams.
"I think they have a negative effect but what I have said is that we will look at it for nine months," he said.
But Arriva, one of the city's main bus operators, said it was "disappointed" by the proposal.
Phil Stone, regional managing director, said: "We believe that bus lanes are an essential part of any successfully integrated transport system.
"Any decision which has the potential to result in such a negative impact on city centre traffic, especially in the busy build up to Christmas, should not be based on 'gut feeling', but instead should be as a result of serious, professional investigation and discussion regarding the possible outcomes."
The plans will be discussed by the council next week and a trial suspension could be introduced from next month.
Mr Anderson said the council would be seeking views during the trial period as well as examining CCTV footage.
Scrapping the bus lanes could cost the council about £700,000 in lost revenue from fines, Mr Anderson said.
"I think that is immoral - just because it is a cash cow doesn't mean we should keep it", he said.