Halton crime gang jailed for guns and drugs offences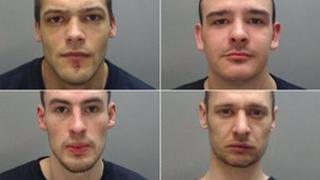 A Merseyside gang which "controlled illegal drug distribution" across a Cheshire borough has been jailed.
Chester Crown Court heard Jamie Barnett and Brady Cole "masterminded" the group which operated from a flat in Widnes.
Cheshire Police said the gang, completed by Dean Kenton and Lewis Gandy, "brought fear, intimidation and violence to the streets of Halton".
Cole, 24, and Barnett, 23, were each jailed for 12 years after admitting firearms and drugs offences.
Kenton, 29 and Gandy, 22, also pleaded guilty to firearms and drugs offences and were both jailed for six years.
Submachine gun
Police searched the Mersey Road flat on 27 March after forcing their way in through a reinforced door.
Officers found a loaded Colt 45 pistol, a submachine gun and a revolver, as well as ammunition.
The pistol was linked by officers to shootings in Runcorn and Halewood earlier in the year. Several shots were fired in both instances, but no-one was injured.
Officers also found Class A drugs at the flat, including heroin and crack cocaine with an estimated value of more than £7,000.
Det Insp Simon Blackwell, from Cheshire Police, said after sentencing: "Never before have we seen firearms of this type, or ammunition of this quantity, on the streets of the county."
Maria Corr, from the Crown Prosecution Service, said: "They were prepared to use guns and violence to pursue their criminal trade and used those firearms as they expanded that trade into Cheshire.
"These sentences mean that a group of violent and dangerous drug dealers are behind bars for some considerable time and that those firearms are no longer in circulation."