Colin Hughes murder: Police make fresh stab death appeal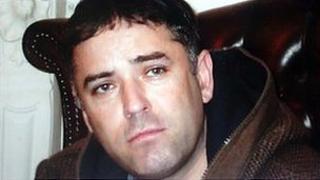 Police investigating the killing of a Liverpool man stabbed in his backyard have made a new appeal for information on the third anniversary of his death.
Colin Hughes, 42, was stabbed in the chest at his home in Baden Road, Old Swan, on 21 September 2010.
Ten people arrested over his death were later released without charge.
Det Ch Insp Phil McEwan said he hoped the "passing of time will enable people to search their consciences and find the courage to come forward".
He said Mr Hughes had been a "hard-working family man who was making plans to marry his fiancee when he was murdered and cruelly taken away from all who loved him".
'Vital answers'
"Colin's death has had a devastating effect on his family [who] all miss him greatly and we want to bring the people responsible to justice.," Mr McEwan said.
"His death has left a huge hole in the lives of his loved ones, who will be especially distraught on the anniversary of his death and the horrible memories associated with this day."
He said officers wanted to hear from anyone with information, "no matter how small it is".
"Three years on, people may be in a different situation from then and now feel in a position to talk," the detective said.
"If this is you, I would urge you to come forward as you could provide vital answers that we so want to give to Mr Hughes' family."