Boy, 15, admits 'video game' style Anfield bank robbery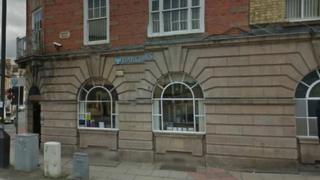 A 15-year-old boy who admitted robbing a bank with an imitation firearm acted as if he was in a "real-life video game", a court has heard.
The schoolboy, described as a "model pupil", stole £2,000 when he held up Barclays Bank in Liverpool on Friday.
His mother called police when she found the cash, stained with dye, and a fake firearm when she tided his bedroom, Liverpool Youth Court was told.
He will be sentenced at Liverpool Crown Court on 15 October.
The court heard the teenager, who cannot be named for legal reasons, was motivated by "greed" when he carried out the raid at 11:50 BST in Breck Road.
'Bizarre, surreal case'
During the robbery, the boy told a cashier: "Don't do anything stupid. I have just got out of prison after five years", prosecutor Debra Chan said.
No bank workers were hurt.
The boy told officers he planned the raid and went on a stake-out of the bank a couple of days before.
He targeted a bank because he thought it would have the "most money", the prosecution claimed.
The teenager pleaded guilty to two counts of robbery and one count of possessing an imitation firearm with intent to cause fear of violence.
District Judge Ian Lomax said: "This is a very serious matter.
"It's an armed robbery but not in the conventional sense most people would recognise.
"It's a bizarre, surreal case of a young man almost acting like a real-life action video game.
"Nevertheless it was a robbery."
'Full, frank confession'
The boy was not known for misbehaving and admitted to police he was envious of other people's material possessions, the court was told.
He told police: "I robbed it (the bank) with a BB gun."
He was confronted by his family after the cash and weapon were placed on the living room table.
Esther Leach, defending, said he made a "full, frank and elaborate confession".
She added: "He is doing fantastically well at school. He comes from a very, very good family."
The judge added his crime was "motivated by greed and immaturity" and influences that may have included "another pupil" or something he had "been watching or playing".
The 15-year-old was granted conditional bail until sentencing.