Plane crash widow travels to Nepal on first anniversary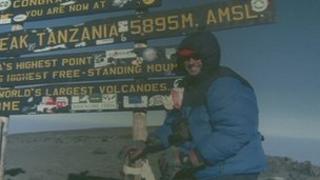 The widow of a man who died in a plane crash in Nepal has described the first anniversary of his death as "very emotional".
Timothy Oakes, 57, of Warrington, Cheshire, was one of 19 passengers killed, when an Everest-bound flight crashed on 28 September 2012.
Mr Oakes was about to start a 19-day trek when the plane crashed shortly after take off from Kathmandu airport.
A report into the crash found the plane had been overloaded when it crashed.
Mr Oakes' widow Angela Gaunt, visited Nepal on the anniversary of his death.
'Some peace'
She said: "Emotionally, I've found some peace at the embassy. They've been talking to me about steps that have already been taken and that the Nepalese are already putting in place as a result of the accident investigation report.
"Emotional as it is, there has also been some peace for my family.
"The year's been hard but it's not actually got any easier now because everything could have been so easily avoided."
The commission investigating the crash, said the aircraft's take-off weight was 5,914kg (13,000lb) - whereas the maximum take-off weight allowed for the flight was 5,836kg.
Its report stated the plane crashed because "the drag was greater than the power available", as a result of which the "aircraft decelerated in the critical phase of ascent lowering the required thrust".
The Sita Air plane had been heading east from Kathmandu to Lukla, the gateway to Mount Everest, when it crashed.